Emma Shapplin - All set(win an autograph)!

Ημερομηνία Πέμπτη, 27 Νοέ 2003 @ 12:24
Θέμα/Κατηγορία Μουσικά νέα - Συναυλίες - Δισκογραφία
Αποστολέας LavantiS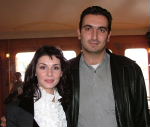 Just one day before Emma Shapplin's concert in Athens, we met her at the press conference to get to know her better, to talk (and take some pictures, also) with her.

Emma Shapplin, a great musician and a perfect voice of the world music scene, gives three concerts on Friday, Saturday and Sunday, November 28,29 & 30, at the "Big Top Theater", Athens.

Click the link below to see what she told us, and learn how to get your sign photograph of her, signed especially for HotStation.gr listeners!

As she revealed in this series of concerts she will perform songs from her last album called Etterna, her first one (Carmine Meo) and also parts of her partitipation on Red Planet's soundtrack.

Emma's plans for her next step in discography will be much different from what we are used to, up to now. (just a reminder that she started her carreer as a heavy metal singer). She wouldn't tell us more, as "she would ruin the surpise". But she remided to all that from her point of view, music is a universal way of expression and communication and she cannot categorize it in genres.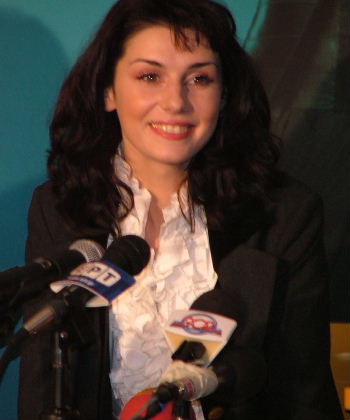 Emma was offered to sign a couple of her photos for us in order to pass it on to her fan among HotStation's listeners.. So, all you have to do to get your hands on them, is to listen carefully in our radio program and find out which song from Emma Shapplin is frequently being played on HotStation.gr. Send your answer via email at info@hotstation.gr. Two of you will get by post mail the two autographs we have for you.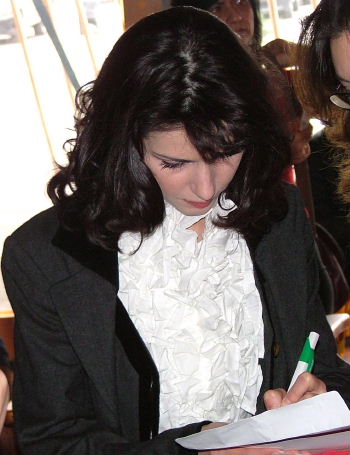 After the press conference we had the pleasure to get a well guided tour around the Big Top Theater and to get to know this new and really big concert - music hall of Athens, actually the Biggest mobile (and among steady ones) theater in Athens. To give you an idea, the stage is 15 x 15 meters, while the Music Palace (Megaron Mousikis) is just 8 meters deep.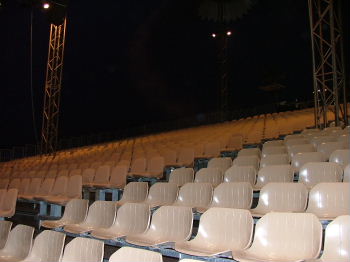 This huge theater have heating cooling facilities for the crew and the viewers (so it's perfectly temperatured both summer and winter time). The backstages can handle and host up to 50 artist while showers, dressing rooms, even laudry and ironing facilities are available for them.

What about Big Theater's schedule? Some of the hottest art events of this winter are going to be hosted there..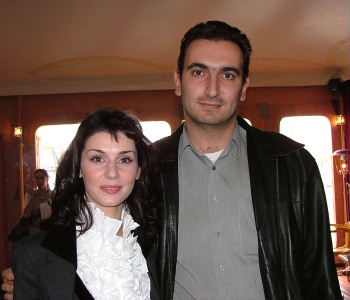 Emma Shapplin is posing with Minas Lavantis from HotStation.gr