Halle Berry's Love Life

Ημερομηνία Τετάρτη, 19 Νοέ 2003 @ 12:00
Θέμα/Κατηγορία Κατινιές και Gossip!
Αποστολέας LavantiS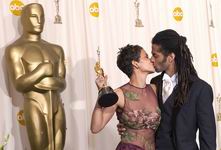 Her place in the ranks of the world's sexiest women has long been established.
Sleek, curvaceous and seductive, Halle Berry's beauty is matched only by the acting talent which won her a Best Actress Oscar in 2002.
But while she may be the envy of millions of women worldwide, her private life is a mess.
Her life has been scarred by a string of failed relationships, and last month she separated from her second husband, musician Eric Benet - the man she described as "the joy of my life" in her tear-stained Oscar acceptance speech.

Read the interview as posted at "Daily Mirror"

Now, speaking about the break-up for the first time, she says she walks a fine line between sanity and insanity and believes she will be in therapy for the rest of her life.

"My relationships suck," she says with a helpless shrug. "I've had an issue with finding the right guy to spend my life with. I'm not real good at it."

It's hard to believe that the life of the woman striding into the Four Seasons Hotel in Beverly Hills is anything but charmed.

The 37-year-old former Bond star is dressed in a short black leather jacket over a tight white sweater and grey trousers, drawing admiring looks from other guests.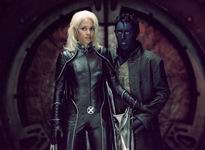 Currently filming Catwoman, she is the picture of health and her glossy hair tumbles over her shoulders. But beneath it all she is in turmoil.

She speaks with devastating frankness about the end of her two-and-a-half-year marriage, her emotional upsets and her search for happiness.

"I don't know if I will ever get married again. I know now the perfect guy doesn't exist," she admits with a sigh.

Halle has suffered heartache by the bucketload. She has been having counselling for more than a decade in a bid to understand her problems with men.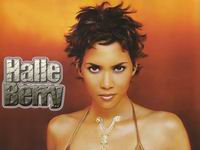 Her troubled childhood is at the root of it all, she believes. She grew up without her estranged father and witnessed her British mother Judith's unhappy love life.

"I think being without a father has made a dramatic difference in my life," she explains. "I used to think that it really didn't matter because I had such a strong, wonderful mother and that was enough.

"But as I've got older I've seen a pattern repeating itself over and over in my life.

I THINK not having a strong male figure has affected the way I relate to men and it's affected what I think I deserve when it comes to a man.

"My mother had a lot of failed relationships, and I think on some subconscious level that's what I expect from myself.

"It's probably something I will spend my lifetime undoing, but the good news is I'm aware of it and I'm making real efforts to change that part of my life.
"But it will probably take some time because those images and those thoughts are ingrained in my psyche."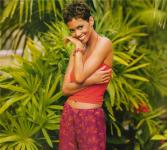 Life certainly was not easy for her as a child.
Jerome Berry, an ex-GI who died in January 2003, left home when Halle was four. Her Liverpool-born mother raised Halle and her elder sister, Heidi, alone in their home town of Cleveland, Ohio.

A teenage beauty queen, Halle was diagnosed as diabetic when she was 19 and was taking insulin until a few years ago, when she weaned herself off it by changing her diet and exercise programme.

She survived an unhappy marriage to baseball player David Justice and a series of disastrous relationships. One former boyfriend sued her for £60,000 and another hit her so hard that she became partially deaf. She has also been linked to director Spike Lee and actor Wesley Snipes.

With musician Benet, it seemed she had finally found her Mr Right. She bonded with his daughter India, whom she treated as her own child, and thought she had finally found a love that would endure.

But their marriage proved short-lived, unravelling in tears and recriminations when Halle discovered that her husband could not control his roving eye. In an effort to save their relationship, he checked into a clinic and had treatment for sex addiction, but it was too late.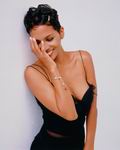 Halle remains very close to India, 12, and is continuing to bring her up. "I am her mother and that will never change," she says.

She has a philosophical attitude to life which she says has helped her through some of the darkest times.

"We are all imperfect beings trying to figure out this thing called life," she says. "I've learned a lot. I know I'm not the only person in the world who has troubles in relationships.

"I don't know if I'll get married again, because you have to find the absolute right person and you have to be ready and two people have to really want it."

Now, she says, she wants to work on changing her attitude to relationships.

"I think I'll take time to really discover more about myself and learn to love myself a little bit more and realise that I do deserve a certain kind of person and I have a right to be really choosy," she says thoughtfully.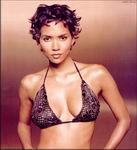 "Those are things I haven't always believed about myself in the past and now I'm going to work on myself rather than look for a perfect person."
She believes she will always be in therapy.
"I am a lifer," she says. "I will spend my lifetime trying to understand myself, trying to understand other people, trying to understand why I am here, why people close to me are here, why we're all in existence.

"If going to therapy a couple of times a month or a couple of times a week helps me discover more about these things, I am going to keep doing it. I've done it as a kid because of my mother.

"She encouraged me to try to understand my feelings and learn how to express myself. I've still got a lot to learn, so I don't see myself giving it up any time soon.

"I feel that most days I walk the fine line between sanity and insanity - and I'm not kidding. It is such a fine line between living in reality and an altered state of reality.

"Our minds are very powerful, and especially within the industry in which I work I am often wondering what is real and what is not. Who is real and who is not? I'm always trying to make my way through."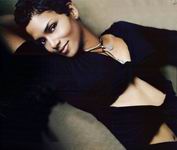 ACTING helps release some of her tensions, as she found in her latest role, as a woman trying to cling to her sanity in the horror film Gothika. "I got to exorcise a lot of pent-up emotions that were trapped inside me," says Halle, who stars with Penelope Cruz and Robert Downey Jr.

"If I can use my art to heal myself and work through whatever I'm going through in life, then this is why I have to do what I do. This was a really cathartic experience for me."

She plays a criminal psychologist in a prison psychiatric ward who is accused of her husband's murder and finds herself confined to the hospital alongside the highly unstable patients she used to treat.

With no memory of the night of the murder except for haunting visions, her behaviour becomes erratic.

Halle found it easy to relate to her character. Three years ago she was involved in a car accident of which she has no recollection.

After being accused of hit-and-run driving, she settled a civil suit brought by the other driver and did a term of community service, working in a battered women's shelter.

"I had to stand up and take responsibility and try and explain why I did something I couldn't remember, so I really related to the confusion of this character," she says.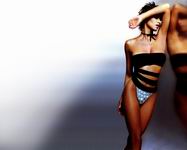 She and Cruz, who plays a dangerously disturbed patient, share a shower scene with dozens of naked women. The two stars were the only ones to cover their breasts.

"Penelope and I kind of wimped out," she says with a smile. "We had pasties while the other ladies stood there naked for hours." But she is happy to undress if necessary. She appeared topless in Swordfish and romped naked with Billy Bob Thornton in her Oscar-winning performance in Monster's Ball.

"My sexuality is a part of me I like to play with and explore," she says. "There was a time when I thought that to be taken seriously as an actress I could not really express that part of who I am. But with Swordfish I got a lot more comfortable with my sexuality."

Despite her tumultuous private life, she thinks of herself as the kind of person who always looks on the bright side and counts her blessings. Even the lack of a man does not bother her unduly now.

"A girl can't have everything. That's how I'm looking at it," she says. "I have so many wonderful things in my life that I'm really happy about."

She flashes her pearly smile and adds brightly: "But I'll take a little time, and hopefully next time around I'll get it right."


Article by John Hiscock posted at Daily Mirror