Diego Maradona in Greece

Ημερομηνία Παρασκευή, 14 Ιαν 2005 @ 15:00
Θέμα/Κατηγορία Νέα και Περίεργα
Αποστολέας LavantiS




Diego Maradona has praised Greece's surprise European championship win calling it a miracle that "is good for football".
One of the greatest footballers of all time, the Argentine arrived in Athens on a mystery trip early on Thursday but has remained out of sight for more than 24 hours. He briefly spoke to reporters at the airport before being rushed off to a central Athens hotel he has since not left.

"Greece beat everyone. It was a miracle and it is good for football when small teams do so well. They shake things up," Maradona said.



Outsiders Greece managed one of the biggest upsets in international soccer history when they won the 2004 European championship in Portugal with victories over holders France, favourites Czech Republic and the hosts in the final.

Wearing a blue jacket and jeans and sporting long hair and a moustache, Maradona cut his drug rehabilitation in Cuba short to fly to Athens.

Argentina's 1986 World Cup-winning captain has been battling cocaine addiction for the last four years at a spa on the Caribbean island.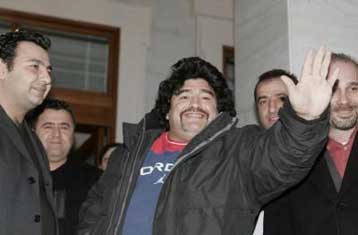 Looking extremely overweight and tired, Maradona did not say how long he would remain in Greece.

"I am just happy to be back in Greece after so many years," he said before getting into a car.

Maradona played in Greece only once when Napoli met PAOK Salonika during the 1988-89 UEFA Cup tournament which his former Italian club went on to win.


Source:
Reuters, In.gr