Anna Kournikova naked teases paparazzi

Ημερομηνία Σάββατο, 30 Οκτ 2004 @ 04:00
Θέμα/Κατηγορία Κατινιές και Gossip!
Αποστολέας LavantiS





Anna Kournikova has been recently spotted in Puerto Vallarta, Mexico, where she spent several days with her beloved man, pop singer Enrique Iglesias. The hot couple was enjoying the ocean, the sun and each other to the maximum, the Komsomolskaya Pravda newspaper wrote.



Having forgotten about paparazzi, the Russian-Spanish semi-naked tandem indulged into the passion of love under the clear blue sky of Mexico. Anna performed a little strip dancing for Enrique to prove to her macho man that the end of her sports career was not detrimental to her figure.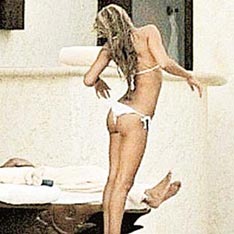 The two lovers went shopping too, paying special attention to souvenir shops. Enrique covered his face of stardom with a hat and sun glasses. Anna had protective eye gear on too, which looked really nice in a combination with a cowboy hat that she was wearing. Enrique Iglesias looked like an absolutely happy man. He was carrying Anna on his arms and even on his shoulders - apparently, he wanted to exercise his strength and stamina.