Bon Jovi Greatest Hits + 4 new songs out November 2010

Ημερομηνία Παρασκευή, 08 Οκτ 2010 @ 17:00
Θέμα/Κατηγορία Μουσικά νέα - Συναυλίες - Δισκογραφία
Αποστολέας LavantiS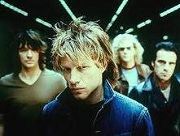 For almost three decades,
Bon Jovi
have earned their reputation on the road as ambassadors of American rock 'n' roll, performing for more than 34 million fans around the globe. Along the way, the New Jersey-based quartet – lead singer
Jon Bon Jovi
, guitarist
Richie Sambora
, keyboardist
David Bryan
, and drummer
Tico Torres
- have racked up a stellar resume of career highlights and accomplishments worthy of acclaim and pride. That's reason enough to release a greatest hits collection, right? Wrong.
Bon Jovi - Greatest Hits
celebrates time travel.
Songs mark moments in time. Ask band members to listen to the songs on this collection and they might reflect on where and when a song was written. But ask Bon Jovi fans to listen to these songs and you'll witness as they're transported to another place and time, reminiscing about the Bon Jovi song that blared on the radio in their first car, at their prom, their wedding… or what it felt like to stand under a starry night sky and sing in unison with 50,000 other fans at a Bon Jovi concert.

"Music marks milestones in all our lives," observes Jon Bon Jovi. "It's humbling to know that people associate our songs with some of the most meaningful moments in their lives."

Through the years, as Bon Jovi have become a part of the fabric of American popular culture, they've emerged as a soundtrack for the lives of millions of fans of all ages around the world.

"We've been blessed," says Bon Jovi. "We now have a multigenerational fan base that has crossed both language barriers and cultural differences."

Bon Jovi Greatest Hits, a standard single disc featuring 16 of the band's classic smash hits and two new tracks – "No Apologies" and "What Do You Got?" will be released in the U.S. and Canada on November 9th.

Bon Jovi Greatest Hits - The Ultimate Collection, a 2-CD deluxe 28-song package featuring fan favorites alongside two more new songs – "This Is Love, This Is Life" and "The More Things Change" – will be available in the U.S. and Canada on November 9th as well.

Four new songs make their debut in this collection and each of them – "No Apologies," "This Is Love, This Is Life," "The More Things Change," and the first single, "What Do You Got?"– nestle neatly into the portfolio of Bon Jovi creations bridging the past to the future.

All of the band's biggest chart-topping singles are included in this collection; the balance of songs are those designated as the most popular among the band's dedicated fan base. Each of the quintessential Bon Jovi tracks share recurring themes of faith, hope, love, and the belief that anything is still possible.

This ultimate greatest hits collection represents the band's success as statistics and chart positions would measure it, but it is the immeasurable impact Bon Jovi have made upon the lives of those touched by these songs that will remain the band's legacy.

For more information, please visit www.bonjovi.com